New permanent public artwork installed in Kingston
Welcome to Kingston's very own 'Party Animal'!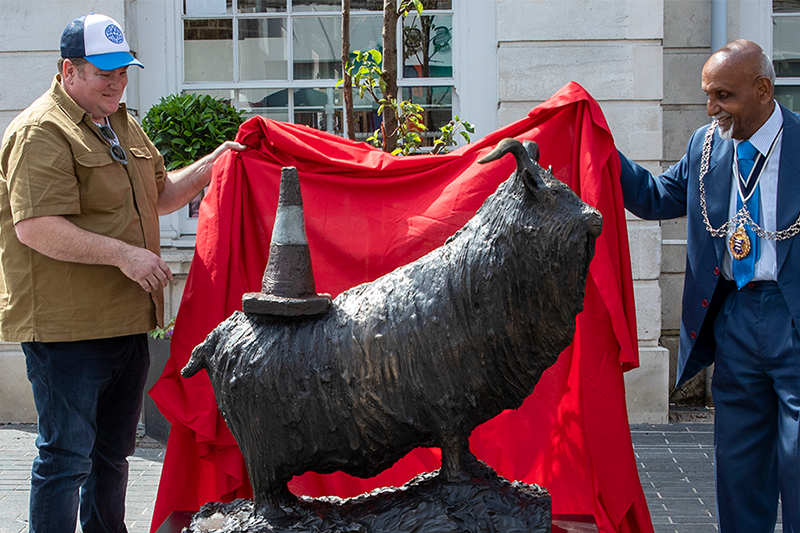 Remember this friendly goat from last year's Kingston Sculpture Trail? If you do, we've got good news, as 'Party Animal' by Alex Davies MRSS now permanently resides in the Market Place!
Installed right in the heart of town, Alex Davies MRSS's 'Party Animal' is a sculpture depicting a bronze goat that stands proudly with a traffic cone on its back. Out of the seven sculptures in the Kingston Sculpture Trail competition, this brilliant art piece gained a whopping 51% vote from the public and was crowned the winner.
The trail was organised through a partnership of the Canbury Community Trust, Kingston Council, Kingston First, and Kingston University, and ran from August to October 31, 2021.
"Public artwork adds richness and individuality to town centres and is central to our shared vision for Kingston's streets and spaces. We're thrilled to see Party Anima permanently installed as a lasting legacy to our first-ever Kingston Sculpture Trail, strengthening the fantastic local heritage, arts, and culture offer in Kingston. We hope that lots of people will enjoy this exciting new addition to the town centre." – Kirsten Henly, Chief Executive of Kingston First
Alex R T Davies MRSS is a locally-based sculptor who runs a fine art foundry, Milwyn Casting Ltd, in West Molesey. You can find out more about the trail here