No holidays booked this year? Never fear, foodies – Kingston's got your back! Whether you're looking for a quick lunchtime pick-me-up or a luxurious al fresco dining experience, there's something for everyone in town this summer.
Keep reading and embark with us on a culinary 'world cruise' to discover the global flavours that await you in Kingston.
You can click each venue name to see more details and opening times. Use the links below to jump to your favourite region.
European & Mediterranean
1. Mimosa: Looking for something to snack on as you shop? Mimosa is an authentic Portuguese deli and café nestled in the Griffin Centre, just off the Ancient Market Place. Treat yourself to sweet pastel de natas, or try something new with tasty empadinhas – or, take some breads, jams and cured meats home for a summery buffet!
2. Stein's: offers exquisite traditional Bavarian cuisine with specially-sourced ingredients, imported from Germany. For those wanting a more unique summer experience, check out Stein's, in High Street – and don't worry, there's veggie options too!
3. Nako's: A quiet and cosy café just off Crown Arcade, Nako's serves freshly-made Mediterranean cuisine – a wonderful choice for a quiet and relaxing lunchtime away from the hustle and bustle of the main shopping routes.
4. Ocean Basket: Nothing says summertime quite like seafood. Ocean Basket is situated just off High Street with a seaside-themed interior and a variety of tasty seafood dishes, you'll feel like you're dining on a Greek Island!
5. Stone Pizza: This family-owned Italian restaurant located in the heart of Kingston is a hotspot for Kingston locals. With an extensive pizza menu and traditional pasta dishes, it'll be sure to satisfy your Italian cravings.
6. Al Forno: A rustic Italian experience and voted 'Best Pizza of the Year' on TripAdvisor (multiple times!), Al Forno is perfect for either a quiet dinner out or a special occasion. Situated in Townsend Parade, High Street, you're only a stone's throw away from the beautiful riverside.
7. The Souvlaki: Originally a food stall in the Ancient Market Place, The Souvlaki became so popular with the market crowd that they opened up a brick-and-mortar venue. With delicious traditional Greek gyros and souvlaki, you can see why it won Kingston's heart!
8. The Bishop: For summer food with origins closer to home, check our the The Bishop's latest menu. Dine al fresco and enjoy views of the river while you tuck into British summer classics prepared in their signature smoked and grilled style, including native British lobsters, Brixham Crab and Dedham Vale salt beef briskets.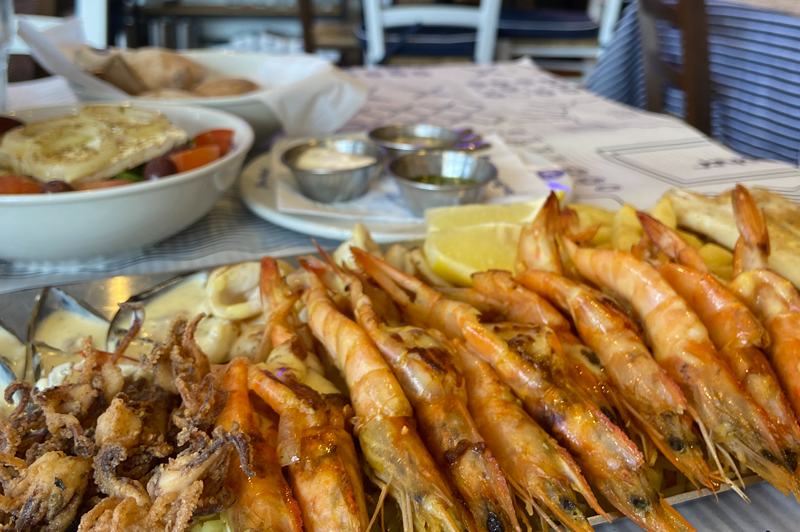 Middle Eastern
9. Simit Sarayi: Starting out as a small bakery in Istanbul, Simit Sarayi is now an international brand serving hot and cold Turkish food and beverages. Great for grabbing a bite on your lunch break and expanding your tastebuds!
10. Narenj: Great food and a relaxing environment in this Persian restaurant overlooking the river. A hidden gem located in High Street, perfect for either a big family meal or an intimate get-together.
11. Le Val: Generous portions to share with friends and family in a friendly and relaxing environment. Located on Fife Road, Le Val is a traditional and family-run Lebanese restaurant, perfect for a group meal.
12. The Cheeky Pea: Offering delicious Middle Eastern food in the form of hummus bowls and pita wraps, we can see why the Cheeky Pea recently celebrated their 10th Anniversary in Kingston. Located in Eden Walk Shopping Centre, it's the perfect place to grab a bite to eat during a day of retail therapy.
13. Cappadocia: Want to experience the true taste of Turkey? Cappadocia has been operating on Fife Road for over twenty years, serving authentic Turkish cuisine cooked by chefs expertly trained in Istanbul. Pop by on a Thursday and you'll be treated to a performance by a belly dancer!
Asian
American / TexMex
20. Poor Boys: Serving up New Orleans-style street food sure to satisfy your cravings, Poor Boys offers everything from seafood to good ol' fashioned Southern fried chicken – the perfect hearty meal with all the trimmings!
21. Neighbourhood Subs & Deli: Nestled in Old London Road, this is a hidden gem offering modern Italian-style sub sandwiches with an American twist – to eat in or takeaway. Visit this chilled out spot in one of Kingston's most vibrant areas.
22. Bill's over on Kingston's Riverside has an special summer menu this year, with the focus on hot and spicy tacos and tortillas – with the option of tequilas.
23. Wendy's: If you're after something quick, then American-style fast-food might be the answer. For the full fast-food experience order one of the US burger chain's signature Dave's Burgers.
African
24. Momma's Kitchen, in the Ancient Market Place serves up a range of Caribbean / African style street food.
25. Fasika Tes, also in the Market Place, offers some unique Ethiopian and Eritrean-inspired vegan dishes. Check out Abay Beyayent, Tana Beyayentu, Lalibela Beyayentu. These are three different varieties of traditional lentil, veg and rice bowl recipes. Plus, there are meat options also available.
Kingston: A world of flavours awaits
If you're a global gourmet who prefers to mix and match your meals, then you'll definitely want to visit the Ancient Market Place, where you can browse and enjoy more than a dozen stalls featuring street food from around the world.
Alternatively, if you're looking for a quick snack or something to prepare at home, check out Kingston's Oseyo and Seoul Plaza stores in Eden Street, for Korean and Japanese foods.
Finally, this article is just a snapshot of the many dining options available in Kingston town centre; it doesn't include many of the cafés, bars, pubs and delis that also serve fantastic international foods. For more about these, visit our Eat and Drink section.