With its eclectic mix of big brands, independents and pop-up shops, bustling market, riverside alfresco dining, art trails, boat trips and exciting free activities, a trip to Kingston upon Thames is a must this summer.
WHAT'S ON IN…
The Ancient Market Place
The Ancient Market Place serves as a lively hub for locals and visitors, and with the return of the deckchairs and water fountain, it's the perfect place to unwind and soak up the atmosphere and let the little ones cool off in the heat!
Throughout the summer, it will also host exciting events and festivals, namely live performances from FUSE International Festival (30 June – 9 July), a yearly youth festival celebrating young and talented artists from all around the world. The festival will be happening across 13 different venues in Kingston upon Thames, with free live performances held in the marketplace during the first weekend of July. 
If you have four-legged friends, then you don't want to miss out on the first-ever Kingston Dog Day market (Saturday 8 July)! This market will host a fantastic selection of independent pet companies selling treats, toys and accessories for your dog, so make sure to bring your pups to the town centre for the day and shop local independents!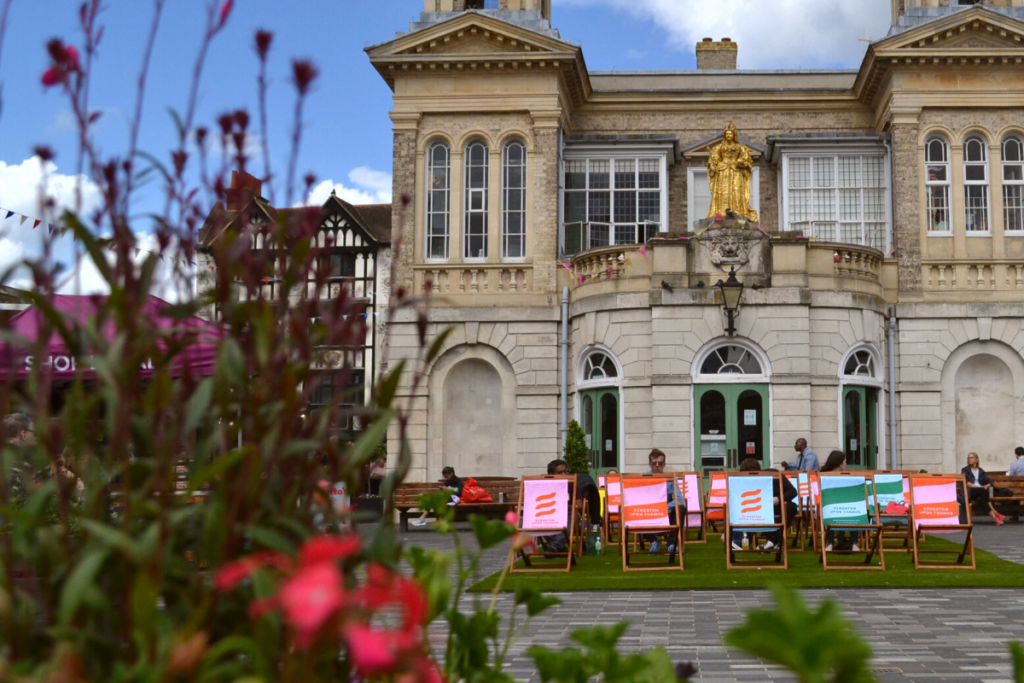 SUMMER ON THE RIVER
There's no better place to be on a sunny summer's day than lounging about on the River Thames. So pop on your shades, grab your sunscreen and bring some food and drink ready to hop on board the GoBoat! This self-drive eco-friendly electric boat holds up to 8 people, so bring your family and friends with you on a warm summer evening and sail away into the sunset. Perhaps you're looking to celebrate your birthday on the river? Then the Turks BBQ boats will be the perfect option for you! This boat seats up to 10 people and includes an onboard full-range BBQ for your culinary pleasure, perfect for parties and celebrations.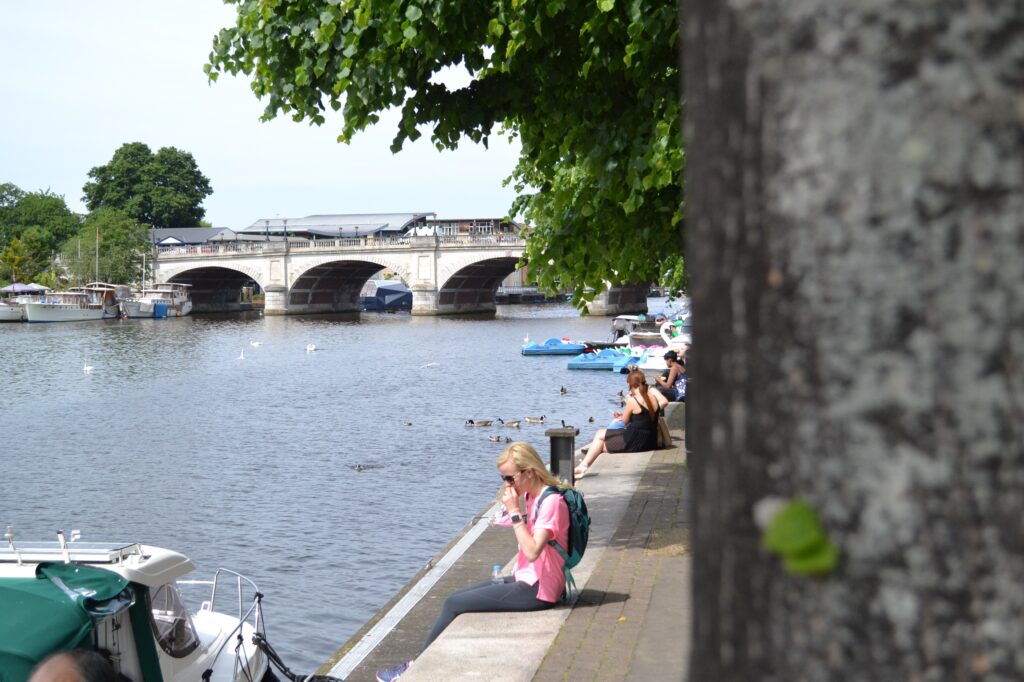 WINE AND DINE AL FRESCO STYLE
Feeling peckish after an action-packed day in the sun? Why not head over to the many alfresco dining restaurants around the town centre and watch the river antics from the safety of one of the many restaurants and bars down at the riverside?
Get a taste for delicious burgers and cocktails at Haché Riverside Social, or try some truly fresh and scrumptious seafood platters at Ocean Basket. You could also enjoy a cold drink and the stunning views from the terrace at The Bishop, grab a few cold ones at an independent bar Woodys, or have your mind blown by Incognito's magical cocktails.
If you're craving Italian cuisine, Al Forno is the place to be. Whilst they may not be right by the riverside, their outdoor seating area provides a charming setting to indulge in their delicious pasta dishes, fresh salads, and Italian desserts. If you're looking for a quick bite, then you wouldn't want to miss a takeaway sandwich, salad, or quiche from The Terrace Eatery or Fortunella at the Apple Market.
After your meal, why not take a stroll along the river and head to Eagle Brewery Wharf. What was once a site of a brewery is now a riverside open space, a perfect place to soak up the summer sunshine and read your favourite book.
There are also plenty of dining options to choose from in Kingston town centre. Explore our Eat & Drink page to discover various restaurants and cafes scattered throughout the town.
CATCH THE LATEST EVENTS IN TOWN
Kingston upon Thames is buzzing with exciting events this summer holidays! Whether you're a music enthusiast or have little ones that need entertainment, or a big foodie, our town centre will have something in store for everyone.
Let's dive into some of the upcoming events and activities happening throughout the summer holidays you definitely don't want to miss!
EXPLORE THE ARTISTIC WONDERS OF KINGSTON

If you're looking to indulge in a summer of creativity and discovery, Kingston upon Thames is the place to be! The town centre is brimming with fantastic public art exhibitions and trails that will leave you awe-inspired.
Head down to Old London Road for the iconic 'Out of Order' Telephone Box art installation by David Mach. Strike a pose or snap a selfie in front of this gravity-defying artwork that has become an iconic symbol of Kingston upon Thames.
For families with little ones, an outdoor adventure awaits you with our 'Chimps Are Family' public art trail! Earlier this year, Kingston upon Thames welcomed the 'Chimps are Family' art exhibition, a public art trail of 10 adorable chimpanzee statues created by world-class artists Gillie and Marc. This fun and educational trail features a series of impressive life-size chimp sculptures dotted throughout the town, so follow the trail and learn about these fascinating creatures.
The town is also home to the 'Party Animal' sculpture, a bronze goat created by artist Alex Davies MRSS currently installed at the Ancient Market Place. The sculpture is designed with a traffic cone resting on its back, and visitors are invited to interact with it. They can rub the goat's nose for good luck or even hop on its back for a ride!