Cruise along the River Thames

What better way to spend a sunny afternoon than on a boat soaking up the sunshine and enjoying the glorious views!
If you fancy yourself as a bit of a skipper, you're in luck! Be the captain of your own boat by renting an electric boat with GoBoat with your friends and family. A perfect afternoon with some booze, food, and cruise – just don't forget to bring your own picnic and champers. 
If you're not in the boat for taking on too much responsibility (excuse the pun), then why not take a leisurely boat trip to Hampton Court or Richmond with Turk Launches. This historic 310-year-old family-run riverboat company will give you an insightful tour along the Thames.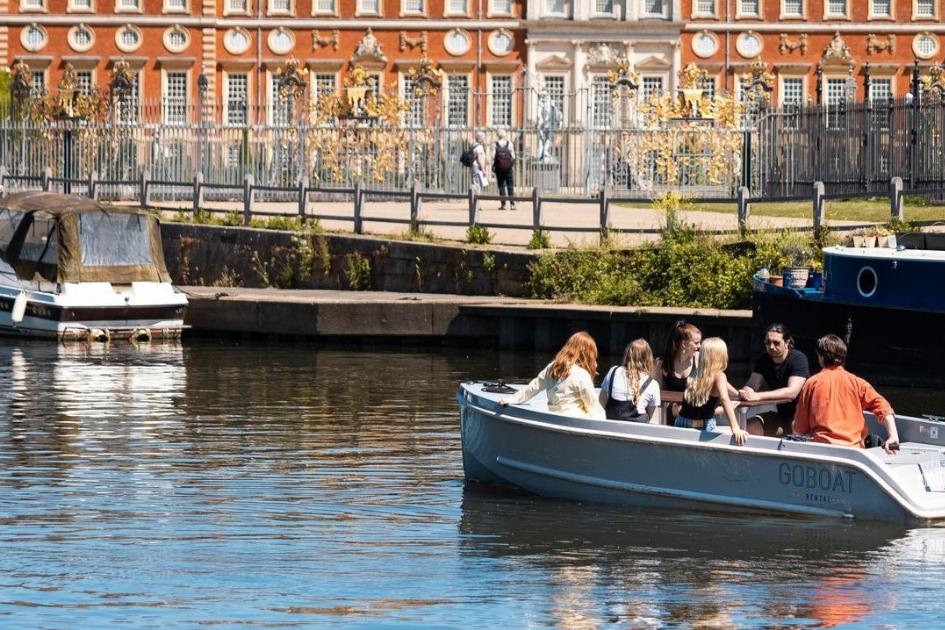 Picnic in Canbury Gardens

Where is the best place to get Instagrammable pictures you ask? We think you can't go wrong with Canbury Gardens! Located at the edge of the town centre, Canbury Gardens is a great place for an energising morning jog, or to simply live in the moment and watch the bustling world go by during an afternoon picnic. With flowers in full bloom this season, you might just be able to catch a glimpse of the cherry blossoms. But if not, there are plenty more flowers to capture and appreciate, and you might get lucky and spot a Mandarin duck!
After all that sun tanning, it's time to grab a bite! Make a quick stop and get a takeaway sandwich, salad, or quiche from The Terrace Eatery or Fortunella at the Apple Market, or treat yourself to something sweet from Love Brownies or Patisserie Les 3 Chocolats.
Flickr: James Scantlebury
Join a family-friendly Chimp Trail around town

There are ten adorable chimpanzees from the hugely successful public art exhibition, 'Chimps Are Family', waiting to be discovered on an easy-to-follow trail around Kingston town centre!
Each of the chimps is displayed with a QR code where the public can learn all about the individual chimpanzee and find important information surrounding conservation. If you're heading out to find them all, you can pick up a trail map in one of Kingston's local businesses before you start.
Step back in time at the Ancient Market Place

A market has been held on the site of the Ancient Market Place since the early 1200s – and is still thriving until this day. Nowadays you can find all sorts of delicacies to tickle your fancies, such as steaming noodles from Pho Real, traditional Ethiopian fare from Fasika, or classic beef burgers from Burgers Bros.
The best way to make the most out of the spring weather is to grab a tasty lunch from our market vendors, listen to the buskers, and soak up the atmosphere! For those looking for something a little quieter, simply head around the corner of Memorial Gardens, next to Accessorize, where you'll find tables and benches for a more serene setting.
Join a walking tour

With stunning riverside views and century-old architecture, our town centre is the ultimate place for a family walk. One of the routes you can take is to walk along the river, pass under Kingston Bridge and follow the riverside path through Canbury Gardens. When you walk past the John Lewis building, don't forget to look out for the talented graffiti artworks on the hoardings, created by incredible street artists.
Another route for those who fancy a longer walk, you can continue all the way to Teddington Lock and go onto Richmond. It's reasonably flat and comfortable to walk and you can either jump on a bus into town or walk back.
If you want to find out a bit more about the history and heritage of the town while taking a stroll, the Kingston Walking Tours runs weekly walks every Sunday for you and your family to join. You'd be surprised – even if you've lived in Kingston your whole life, there are so many interesting and unique facts to learn.