Chimps Are Family: Public Art Exhibition comes to Kingston
10 adorable chimpanzees from artists Gillie and Marc's hugely successful public art exhibition 'Chimps Are Family' have arrived in Kingston town centre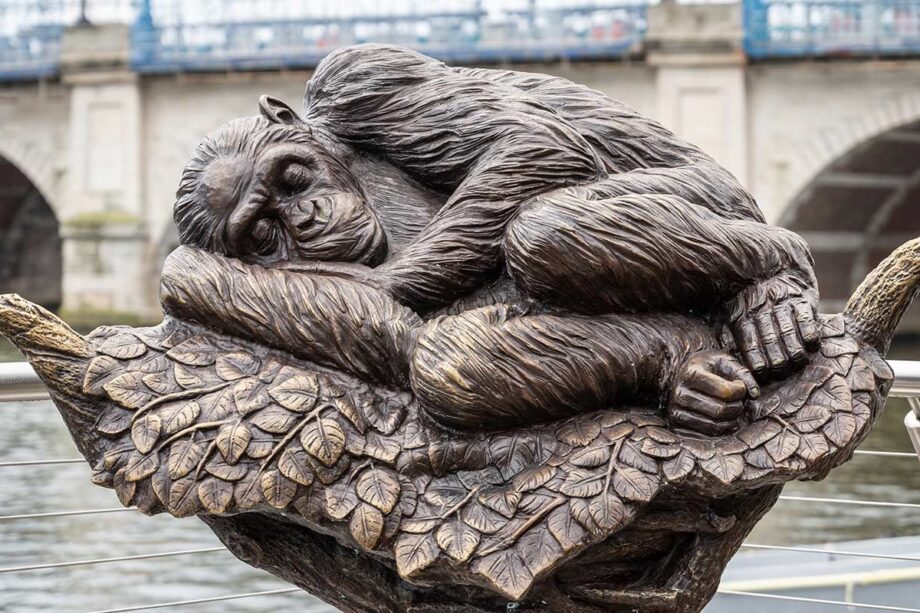 Last Updated – 31/07/2023 – Sculpture availability extended until the end of 2023
10 chimpanzees from the hugely successful public art exhibition, 'Chimps Are Family', have arrived at their new home in Kingston town centre! Moving down river from their previous home in London Bridge; Kingston is the next in line to welcome the adorable apes in this interactive sculpture for conservation.
The exhibition is brought to the town through a partnership of world-class artists Gillie and Marc and Kingston First, the town's Business Improvement District, and will be in place until late 2023.
One-half of the artist duo, Gillie said: "I was born in Kingston Hospital and lived my first years in Kingston upon Thames. My earliest fond childhood memories were spent walking along the river with my mother and father. It is so special to be able to bring 'Chimps Are Family' to the place and community where my life began."
Kirsten Henly, Chief Executive of Kingston First, said: "We are delighted to be partnering with world-renowned artists Gillie and Marc to bring these wonderful sculptures to Kingston upon Thames. We know that people are always looking for new, exciting experiences; free and accessible public artwork is an important strategy to create vibrant and successful places and encourages people to visit their local town and businesses.
Ten characterful chimps will be located on a trail to discover around Kingston town centre, and we look forward to welcoming the many visitors and local residents who will be coming to enjoy them."
These sculptures are designed to be interactive. The public is encouraged to get as close as they want, touching their faces, examining their hands, and giving them a hug. This unique form of public conservation is here to inspire love and connection.
The ten chimps are dotted around Kingston's town centre and trail maps will be available to pick up in local businesses and lovethelast.com. You can also click here to download a pdf.
Each of the chimps are displayed with a QR code where the public can learn all about the individual chimpanzee and find important information surrounding conservation. They also have the option to donate to save chimpanzees, with all funds going to WWF.
Download a pdf of the map here
These behaviours are what inspired their public sculpture, 'Chimps Are Family'. Showcasing 10 different chimpanzee behaviours such as laughing, grief, and imitation, the public is given a unique glimpse into the life of a chimp and a greater understanding of our cousins.
"We really hope that these sculptures will help people to see the very real similarities between us and chimps. They laugh at funny things, get cross with one another, and have wonderful bonds of friendship. We hope that once people see how similar we really are they will be moved to protect them," explains Marc.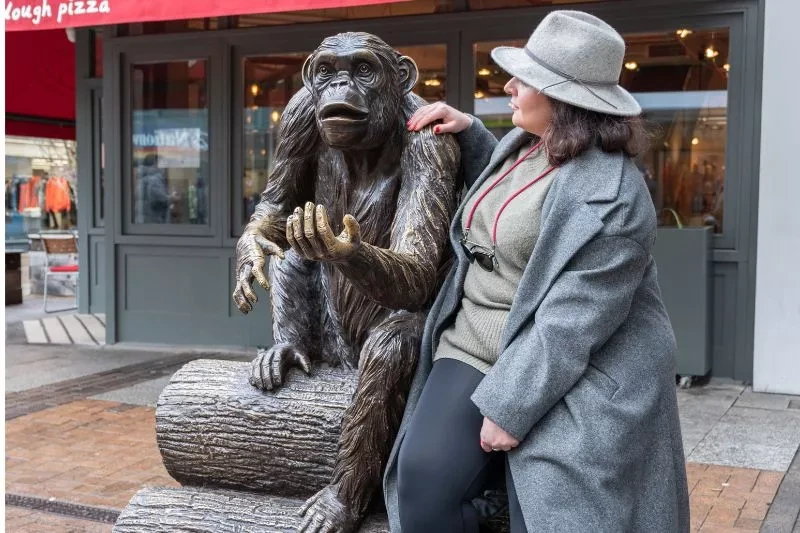 Chimps are remarkable animals that share 98% of our DNA. But they've also been a driver for evolutionary understanding, turning the scientific thinking of the time on its head to give us a better understanding of what it is to be human. Thanks to the groundbreaking research of Jane Goodall, we have discovered a link to our evolutionary past and also a much greater understanding of ourselves.
"While we were studying the chimps we were absolutely blown away by how similar they were to us! So many of their behaviours were just like ours and the relationships they have, especially between mother and child, was so heartwarming," remarked Gillie.
Despite our great similarities and connection, chimpanzees are endangered. And it's because of our actions. With our cities expanding at a rapid rate, their habitat is being destroyed, making space for housing, agriculture, mines, and roads. The chimps struggle to find enough food, getting them into dangerous situations which can lead to human-wildlife conflict.
They are also targeted by hunters for bushmeat or to sell the babies on the illegal pet trade. And all these interactions with humans have left them sick, catching our diseases, the worst being Ebola. Ebola has killed hundreds and thousands of chimps since the 1980s.
'Chimps Are Family' is giving the people of Kingston upon Thames a once-in-a-lifetime chance to get up close and personal with our cousins, but also the opportunity to save them before it's too late.
For more information on the artists and the exhibition, visit lovethelast.com.