A Kingston icon for over 30 years
One of the most well-known and iconic public artworks here in Kingston is Out of Order, created by David Mach RA back in 1989. The red telephone box is a symbol of British heritage, a sight that you'll find everywhere you go in London. This installation consists of twelve tumbling telephone boxes on Kingston's Old London Road. Countless visitors have taken their photo in front of them (or on top of them, though we wouldn't recommend it!). The artwork was restored in 2019 to mark its 30th anniversary.
Eye-opening exhibitions
Just a short stroll from the town centre, in a unique island location along the Hogsmill River, Kingston University's Stanley Picker Gallery acts as a bridge between the university and its communities. Always experimental and exciting, through working with local artists, designers, students, academics and community members the gallery aims to foster an innovative environment for creatives. They also hold exhibitions and events throughout the year, and it's worth checking out their Instagram @stanleypicker to get the inside scoop. The Gallery is closed during the summer months but reopens in September.
For a spot of local history and a treasure trove of art and photography, Kingston History Centre, and Kingston Museum should be your first port of call. The Heritage Service boasts a huge collection of classic oil and watercolour paintings, ancient artefacts and so much more. Envision what the Ancient Market Place would have been like centuries ago or explore exhibitions by local artists in the Museum's art gallery. You can also pick up gifts and postcards in their small shop.
Stanley Picker Gallery. Image credit FBM Architects

Stanley Picker Gallery. Image credit FBM Architects
Gillie and Marc's 'Chimps Are Family' Public Art Exhibition
'Chimps Are Family' is giving the people of Kingston upon Thames a once-in-a-lifetime chance to get up close and personal with our cousins, but also the opportunity to save them before it's too late. The public is encouraged to get as close as they want, touching their faces, examining their hands, and giving them a hug. This unique form of public conservation is here to inspire love and connection.
The ten chimps are dotted around Kingston's town centre and trail maps are available to pick up at local businesses, which can be found here.
Echolocation: video projection by Mat Collishaw
Head down to Riverside Walk as the evening sets in, and in the undercroft area between Cote Brasserie and The Bishop pub you'll find Echolocation, an impressive eleven metre-long, three-channel video installation by acclaimed artist Mat Collishaw. The artwork was commissioned by Canadian and Portland estates in collaboration with students from Kingston University.
The piece seeks to excavate more than a millennium of local history, panning through a spectral Gothic interior of All Saints Church, which was built on the site said to be where the first Saxon kings such as Athelstan were crowned. The eerie bats which swoop across the projection are nods to both Eadweard Muybridge (Kingston resident and pioneer of stop-motion photography who often used animals in his studies) as well as Kingston's status as a bat conservation area.
You can visit the artwork at dusk and in the evenings. Find out more here.
Echolocation by artist Mat Collishaw

Echolocation by artist Mat Collishaw
Party Animal by Alex R T Davies MRSS
A legacy from Kingston Sculpture Trail, Party Animal by artist and local foundry owner Alex R T Davies MRSS was installed earlier in 2022.
The trail ran from August to October 2021 and was organised by a partnership of Kingston First, Kingston Council, Kingston University and Canbury Community Trust. Seven sculptures were installed across the town centre and Canbury Gardens for three months, with a public vote deciding which should be permanently sited in Kingston.
Party Animal depicts a friendly bronze goat with a shiny heart-shaped nose and a traffic cone atop it's back, and invites little ones and the young at heart to climb on his back for a ride. The fun sculpture was chosen by Kingston's residents as the winner of the trail, receiving over half of the public votes.
You can find him in the Ancient Market Place on the north side of Market House.
Spot the street art
Some people might associate graffiti with crude messages or tags you'd find on the side of a bridge, but in Kingston you'd be surprised to find a wealth of beautiful graffiti artwork around town. We might not know all of the artists who have created these stunning pieces of street art, but some notable mentions are @5kyh1gh, a talented artist whose work you can find all over the borough (including the swan at the top of this guide), @jjjeremyjones, creator of Sleepy Tom (pictured), and @atila_8t4 who painted a beautiful portrait of a woman in bright colours. You can find lots of the artwork on the hoardings near the riverside, at the entrance to the John Lewis car park, but we love seeing new pieces spring up all the time!
Buying art in Kingston
Looking to splurge on a new piece of art for your living room? On Church Street you'll find Clarendon Fine Art, which holds a collection of rare signed editions from famous 20th-century artists including Picasso, Hockney, and Warhol. They also hold events and exhibitions throughout the year, so make sure you're following their Instagram account (@clarendonfineartofficial) for updates.
Whitewall Galleries (on the Second Floor of Bentalls) offers original paintings, collectable editions and sculptures from internationally acclaimed artists alongside the most exciting emerging talents.
A community of artists and makers
On Eden Street you'll find Fusion Arts Studio, a small charity-focused organisation focused on providing affordable studios for the creative community in central Kingston. Fusion Arts also helps connect aspiring local artists to work and collaborate on projects. If you'd like to work with young artists on an upcoming project or find out more about one of their 32 studios to rent, click here.
KAOS (Kingston Artists Open Studios) is a non-funded organisation comprised of professional and semi-professional artists and makers living and working in the Kingston area. There is no gallery as such, however, you can visit their 'Open Studios' in various locations throughout the year. One to keep an eye on is their annual Kingston Artist Open Studios event in the summer. This is a perfect opportunity to meet local creators, see their work, talk to them about their techniques and inspirations, and buy affordable art directly. You can browse their upcoming exhibitions here, and don't forget to check out their Instagram @kaoskingston.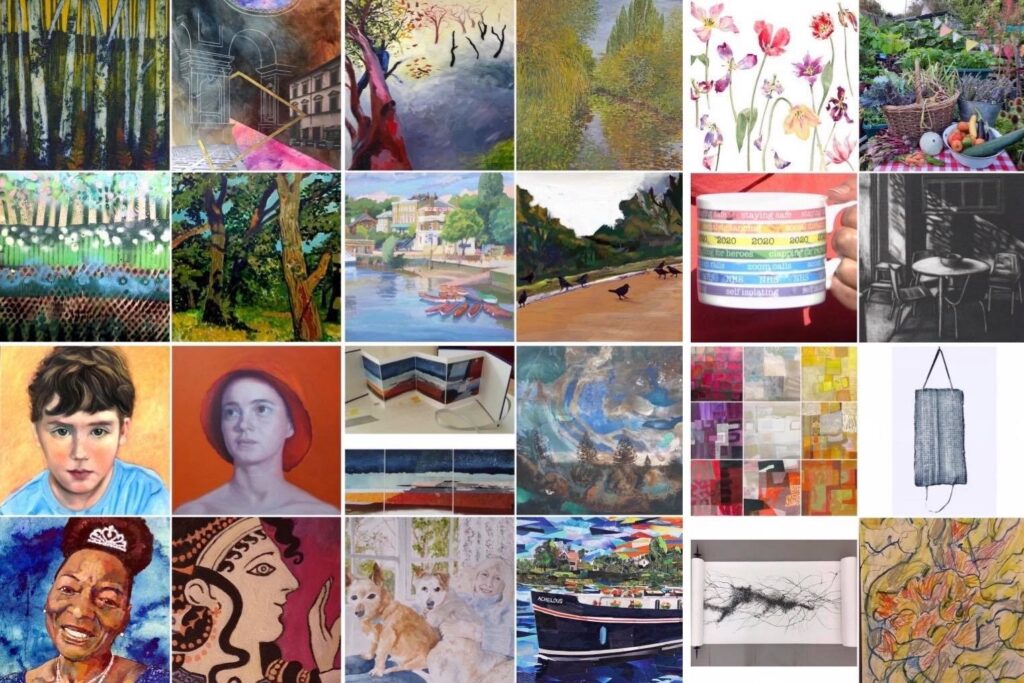 Feeling inspired?
If you want to get your creative juices flowing, Kingston has two fine art supplies shops; Cass Art and Pullinger's, where you can get advice from artists and makers and pick up everything you need to get started.
Not My Beautiful House and Cass Art often run workshops for budding artists. Check our Events page to see what's coming up.
You can also find basic arts and crafts supplies at a number of shops across town, see below.