Kingston upon Thames may be renowned for its sunny days, but a rainy day can be equally enchanting if you know how to make the most of it. Embrace the serenity of museums, the cosiness of cafes, and the first-class shopping. Whether you're interested in history, art, nature, or simply a leisurely time indoors, Kingston has something to offer even on a rainy day. So, next time the rain clouds gather, embrace the opportunity to explore this charming town with a fresh perspective, and let its magic unfold in a different light.
GET YOUR CAFFEINE KICK
What better way to spend a rainy morning than cuddled up with a hot drink and a book? Kingston has no shortage of places to enjoy a soothing breakfast tea or a silky flat white. Just round the corner from the Ancient Market Place you can find Local Hero, an independent coffee shop serving delicious speciality coffee and tasty treats, or venture towards the Apple Market for a variety of brunch cafes like Fortunella or the Terrace Eatery. Castle Street is also bustling with cafes and lunch spots such as Cafe La Cigale or Don Corleone Cafe, perfect for stopping in for a quick bite to eat or spending the day watching the world go by, or if you want something off the beaten track, check out Old London Road Cafe. If you're looking to do a coffee shop crawl of Kingston, check out our Insider Guide for more.
IMMERSE YOURSELF IN LOCAL CULTURE
On a rainy day, why not immerse yourself in the rich and vibrant culture of Kingston upon Thames? The Kingston Museum offers fantastic exhibits on local history, such as the current Bowie and Beyond exhibition running throughout the summer. The Museum also has three permanent galleries – Ancient Origins, Town of Kings, and Eadweard Muybridge. Come along and browse the impressive collection and brush up on your local history knowledge.
Kingston also has an incredible art scene, with local galleries and public exhibitions. Not My Beautiful House showcases beautiful local art by Kingston University students and more, often running workshops for budding artists. Or, meander round the town with your umbrella, spotting the sculptures dotted around such as Gillie & Marc's Chimps are Family public exhibition, or David Mach's iconic 'Out of Order' sculpture. Want to know more about Kingston's art scene? Check out our Insider Guide here.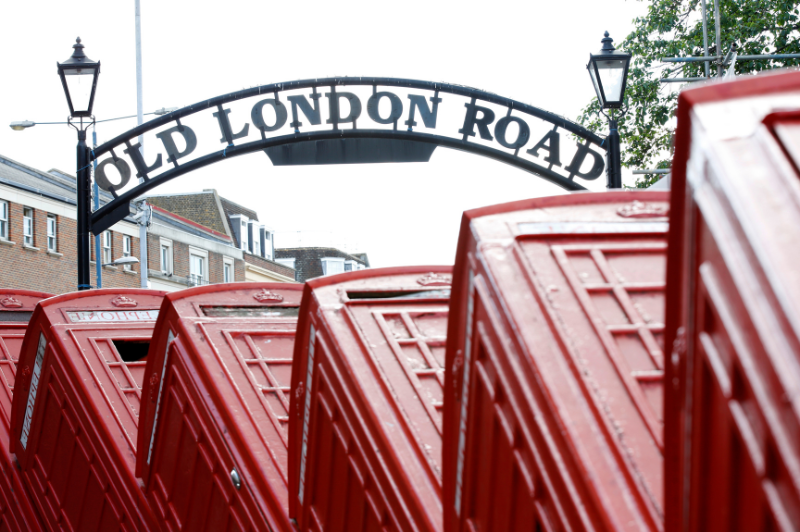 INDULGE IN RETAIL THERAPY
It's no secret that Kingston is a retail destination for both locals and those coming from further afield. Strolling through the bustling streets, you'll discover a mix of high-street brands, designer boutiques, and independent shops, all set against a backdrop of historic architecture and lush green spaces. With shopping centres such as The Bentalls Centre and John Lewis offering high street favourites, you'll have a wide variety of shops to choose from when it comes to selecting your summer look.
If you're looking for something off the high street, Kingston's got you covered. Independent fashion retailer Pure Vintage sells streetwear such as Carhartt, Levi's, and more, as well as vintage fashion. Or, venture out towards Old London Road for a boutique shopping experience at Mr Mullan's General Store to impress your pals with unique items.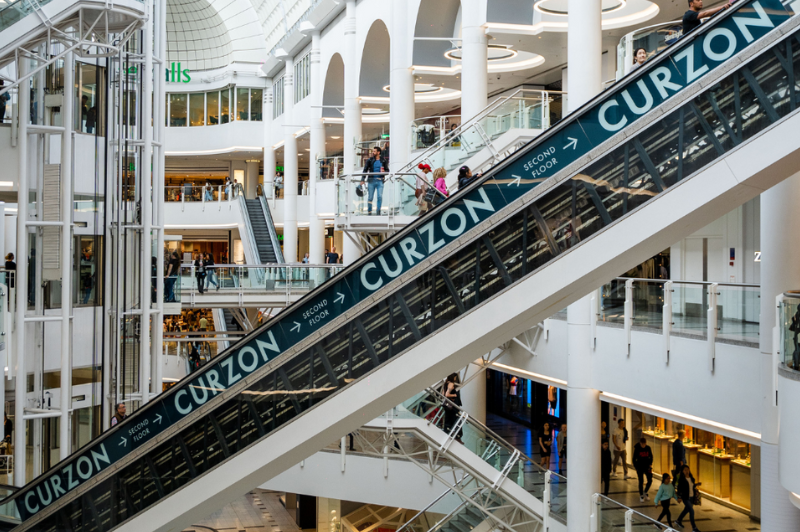 TRANSPORT TO ANOTHER WORLD
The ultimate comfort on a rainy day is watching a film and immersing yourself in another world. Kingston has two cinemas to choose from – the Odeon, located in the Rotunda on Clarence Street, and the Curzon, at the top of the Bentalls Centre. Both cinemas also have weekly kids' screenings with discounts and offers, so you can entertain the whole family for less! Grab a ticket, sit back and relax in a comfortable seat, and let the magic of the big screen transport you to a magical world.
If you're searching for something a bit more live-action, The Rose Theatre has an exciting mix of performances throughout the summer months, including kids' shows and theatre geared towards grown ups! The Rose also has a collection of workshops for young thespians running throughout the summer, so book your budding actor in while you get the chance.
SOLVE A MYSTERY
Keep the whole family entertained with a fun escape room experience and keep dry! There are two different venues to discover, such as Escape Hunt and Kingston Escape Rooms. These immersive entertainment experiences offer you a chance to step into a world of mystery and adventure.
Whether you're testing your detective skills, unleashing your inner Sherlock Holmes, or simply seeking an adrenaline-pumping challenge, escape rooms deliver an unparalleled sense of excitement and achievement. With the thrill of the unknown and the joy of teamwork, escape rooms offer an unforgettable adventure for everyone willing to take the plunge into a world of enigma and excitement.
BOWL A STRIKE
Whether you're a seasoned pro looking to showcase your strike prowess or a first-timer hoping to enjoy a laid-back game with friends and family, there's something for everyone at Tenpin, located in the Rotunda.
With friendly staff and top-notch equipment, you can expect a memorable and enjoyable bowling experience on a rainy day. So, whether you're seeking a thrilling evening of strikes and spares or just looking for some light-hearted amusement, head to Tenpin at the Rotunda for a fantastic bowling adventure that guarantees smiles and strikes aplenty.
After your game, stick around and explore the arcade, which offers a nostalgic and entertaining escape into a world of classic and modern video games for gamers of all ages.
KEEP THE KIDS OCCUPIED
On a rainy day in Kingston, there's no shortage of exciting activities to keep kids entertained and engaged. Families can head to Wacky Kingdom, an indoor soft play centre suitable for all children aged 12 years and under, where kids can climb, jump, and slide to their heart's content, burning off energy while staying sheltered from the rain. Or, the little ones can explore the mini toy-world of PICNIC, located in the Rotunda.
The Rotunda also hosts a variety of events for kids, including a Kids Craft workshop every Thursday which gives you the opportunity to win a £10 voucher which you can spend anywhere within the Rotunda – why not try out Kung Fu for a delicious Chinese buffet, or head to the Pizza Express across from the Odeon and use your winnings?
For those seeking a creative outlet, there are multiple workshops and sessions allowing children to unleash their imaginations and create wonderful masterpieces, which can be found in our Insider Guide to the summer holidays. Kingston truly offers a variety of enjoyable and enriching activities for kids on rainy days, ensuring that the weather won't dampen their spirits.
ZEN OUT
Yoga classes offer a serene haven for those seeking physical, mental, and spiritual harmony. Whether you are a seasoned yogi or a curious beginner, there's something for teens and adults at the yoga and meditation events happening in the Bentalls Centre throughout August. Choose from gentle Lunch Break Yoga, Mindful Meditation, or Yoga for Teens.
From gentle, meditative sessions that encourage self-reflection to dynamic, invigorating flows that build strength and flexibility, there's a class for every individual's needs. Immerse yourself in the soothing ambiance, breathe in the fresh air, and let the expert guidance of skilled instructors lead you on a transformative journey of self-discovery and inner peace. Namaste!
All ticket sale proceeds go to Voices of Hope.