With its historic streets, picturesque riverside, and a selection of holiday activities to choose from, spending a day in Kingston during this festive time is a treat for the whole family. In this Insider Guide, we'll guide you through a perfect festive day in Kingston upon Thames.
VISIT THE CHRISTMAS MARKET
Start your day by immersing yourself in the holiday spirit at Kingston's Christmas Market. Nestled in the heart of the town in the Ancient Market Place, this market is a treasure trove of seasonal delights. Stroll through rows of festively decorated stalls selling handcrafted gifts, ornaments, and delicious treats. The scent of mulled wine fills the air, with live music playing from the stage, and the option of a game of curling in Alpine Village, making it impossible not to get into the holiday mood. There is also a local Makers Market every Friday – Sunday organised by Not My Beautiful House, alongside guest takeovers from local breweries at the bar every Thursday – Sunday!
SEE THE LIGHTS
As night falls, be sure to take a stroll through Kingston's beautifully illuminated streets. The town comes alive with a mesmerising display of Christmas lights and decorations that create a magical atmosphere – and this year, we have some brand new bespoke lighting and installations for everyone to enjoy. The giant reindeer and photo-opportunity bauble are returning, and we have a new glimmering walk-through Christmas present installation coming too. It's a perfect way to cap off your day and experience the true spirit of the season.
DO SOME CHRISTMAS SHOPPING
The Christmas Market has many handmade gifts to choose from, but Kingston also has a stunning retail offer from high street favourites to quirky independent businesses to cross some items off your holiday shopping list. Over on Clarence Street you can browse through The Bentall Centre, with high street shops such as Zara, H&M, and Oliver Bonas, along with high end clothing and beauty brands within the department store Fenwick. Or, you can head towards the Market Place for Kingston's boutique quarter, featuring Jo Malone, Space NK, Whistles, and Reiss. Wander down Old London Road for a hub of independent shops like Mr Mullans General Store or Antiques of Kingston. Whether it's a unique handmade ornament, a special piece of jewellery, or locally sourced gourmet treats, Kingston offers a wealth of gift options for your loved ones.
GRAB A HOT DRINK
Warm up with a steaming cup of coffee from one of Kingston's cosy cafes. Sip your favourite brew as you take in the enchanting decorations and twinkling lights that adorn the town. It's the perfect way to recharge before spending a day doing some Christmas shopping! The Apple Market has a range of independent cafes like Fortunella, The Terrace Eatery, or Bonne Bouche, while dotted around elsewhere you have independent speciality coffee shops Local Hero and Beanberry – if you're on the lookout for somewhere new to try, check out our Insider Guide on coffee shops in Kingston or our Eat & Drink page.
CATCH A THEATRE PRODUCTION
In the afternoon, indulge in some cultural entertainment by attending a theatre production at one of Kingston's renowned venues, The Rose Theatre. This year, The Rose's Christmas production is Peter Pan – but there are multiple other performances happening throughout November and December. Check out what's on here.
SEE A FESTIVE MOVIE
The end of the year leading up to Christmas is usually the time when all the Oscar-hopeful films come out, so why not head to a local cinema to catch a festive movie with your family or friends? Kingston has two cinemas to choose from – the Odeon located in the Rotunda on Clarence Street, or the Curzon at the top of the Bentall Centre.
DO A FAMILY ACTIVITY
To round off your day, engage in a fun family activity. Kingston boasts a wide variety of entertainment venues dotted around the town centre, so it'll be easy to keep the little ones entertained over the Christmas period! For the younger children, check out Wacky Kingdom in the Bentall Centre or Picnic in the Rotunda for play areas that will keep them busy for hours. For the older crowd, Kingston has two escape room venues to keep you out of the cold, and test your detective skills – choose between Escape Hunt and Kingston Escape Rooms. Or if you're looking for something a little more laid back, the Rotunda offers Tenpin Bowling and an arcade full of classic games for everyone to enjoy. Even just a walk along the beautiful Thames riverside is a wonderful way to spend time with your loved ones in Kingston!
HAVE A FESTIVE MEAL
As the day turns into evening, enjoy a delicious dinner at one of Kingston's cosy restaurants or pubs. Whether you're craving traditional British fare or international cuisine, you'll find plenty of options to satisfy your appetite and share quality time with loved ones. Stroll along the riverside to find restaurants and pubs with a gorgeous view of the Thames, such as Busaba, Chakra, Bill's, Comptoir Libanais, Hache Social, Cote Brasserie, and the long-standing independent restaurant Riverside Vegetaria. Kingston also has a selection of restaurants dotted around throughout the town, such as chain favourites Wagamama, Wildwood, Giggling Squid and Zizzi, as well as independent restaurants like Poor Boys, Le Val, Cappadocia, and Al Forno.
GET MERRY
What better way to enjoy Kingston's buzzing nightlife than when it's lit up by Christmas lights? End your perfect Christmas season day with a visit to a local bar for some festive cocktails or mulled wine; for cocktails with a twist, head to Incognito in Griffin Arcade, or grab a table at one of the riverside pubs like The Ram, The Bishop, Woody's, or The Gazebo. For a bit of history along with your pint, visit the Grade II-listed pub The Druids Head in the Ancient Market Place. Kingston's nightlife scene comes alive during the holiday season, and you can toast to the day's adventures and the memories you've created.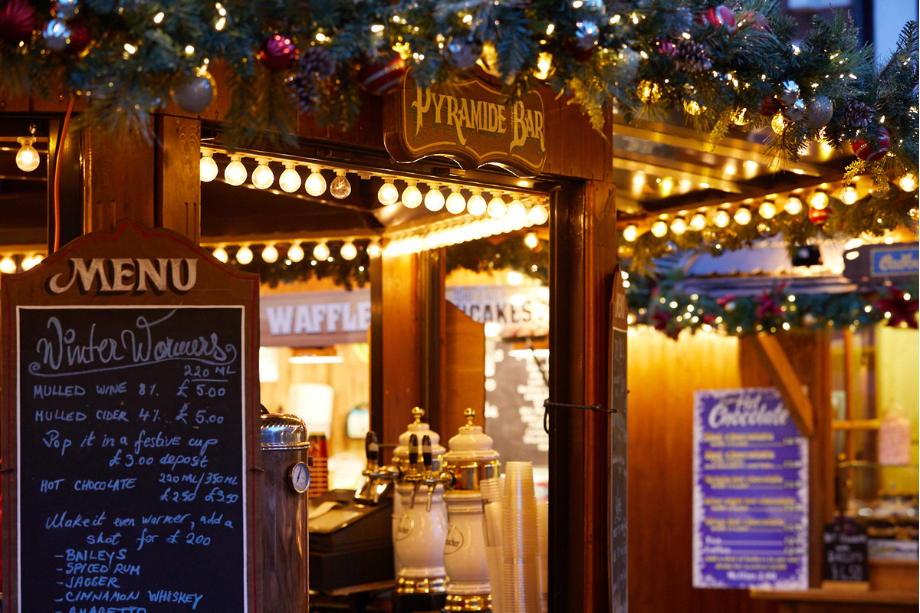 A perfect festive day in Kingston upon Thames is filled with festive magic, from the enchanting Christmas Market to heart-warming family activities and cultural entertainment. This charming town offers the ideal setting to create cherished holiday memories and capture the spirit of the season. Whether you're a local or a visitor, Kingston upon Thames will provide a unique experience to revel in the joy of Christmas!